The New Leaf #29 - The art of attention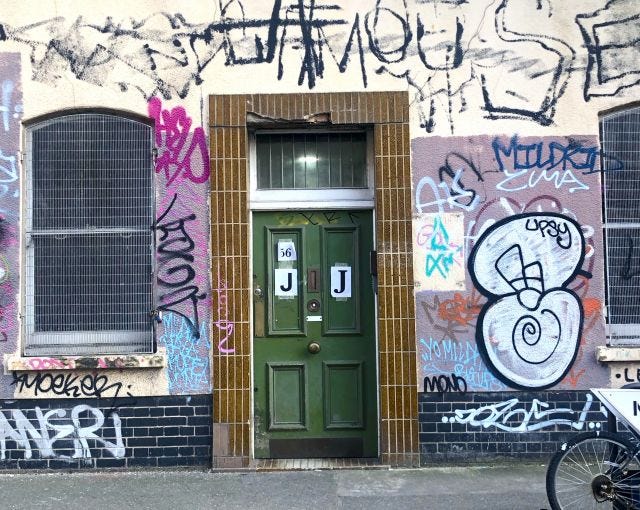 Hi, and welcome to the twenty-ninth instalment of The New Leaf. I'm happy you're here!
The spring equinox is here - the sap is rising! This is the true newyear, in my opinion: nothing new can truly begin while in hibernation, not until the blood starts flowing.
I've been thinking a lot about how to better direct my attention - to point my eyes and hands and brain in a direction of my choosing, instead of merely reacting as things come my way. I'll admit that in moments of overwhelm, I've entertained a flirtation with being the kind of person who just ignores things they don't want to deal with - picturing the absent-minded professor who lives "a life of the mind" where meals magically appear on the table, or the free spirit who floats through life, trusting "the universe" to provide. But I know I'm constitutionally unable to be the kind of loon who collects my renewed passport on my way to the airport, and I know that "things have a way of working out" is often code for "someone else will take care of it".
But that doesn't mean I have to do all the things, all the time. The art of attention is about learning to focus, and that also means learning to ignore things, because did you know it takes 23 minutes to get back into flow after a distraction?! Still, it took me a long time to feel okay with telling people I only look at the news every few days (we are not designed to be constantly bombarded with bad news). Also, it took untold conversations with my partner (and a book about boundaries) to internalise that no one was going to be upset with me if I established office hours even though I *technically* could be more flexible - it's okay to say "I will respond to this later".
As a person who wants to keep my passports in date and also do what they call "deep work", the solution has been to learn to ignore things in a controlled fashion. I group my tasks in such a way that my afternoons are one long, uninterrupted work block, which I will break only if something is literally on fire. (In case it's not already obvious, I don't deal well with context-switching.) I also have a quarterly focus list with eight slots - four major projects, four minor - this is the amount of things I can truly pay attention to, and nothing new can enter until something has been completed or removed, no matter how worthy.
But every now and again I allow myself the ultimate luxury: to ignore something just because I don't want to deal with it. Annoying stuff, boring stuff, I-just-can't-with-this stuff. Sometimes, if you ignore something it actually does go away!  And if that doesn't work, there's always the Agatha Christie option: in 1926 she disappeared from her home, triggering a manhunt. 11 days later, the author was located at a spa where she'd checked in under an assumed name - she was not best pleased to be found. I should add that when I do this, I give people notice and tell them where I'm going. But sometimes you just need a moment where you don't need to ignore anything at all, because the only thing that requires your attention is you.
Things I've been writing lately.
I'm open for business!
The curious skyline appeal of London's fire drill towers - WhyNow
Back in the day, my friend Matt lived next to a fire drill tower, which he would take pictures of in every setting possible until they tore it down. Because of this, I always notice modernist fire drill towers - there's something odd and a little defiant, about them. I'm so very pleased that my first story back from my journalism hiatus is about this very thing - here's to your weirdest ideas, may they fill your heart with happiness!
Everywhere has a vegan option - so why am I still hungry? - The Independent
I love cooking vegan food at home, but eating out can be a different story - often, it's a sad state of affairs. Things are a LOT better than they used to be, but we're not there yet. So I put my conviction that *hummus is not a meal* to the test and found that a lot of vegans agreed with me: plants make amazing food, and we'd love to see that more frequently reflected out in the world, too.  
Some things I've been enjoying lately.
Star Trek: Picard, season 3! They got the band back together! Season 3 of Picard is basically the long lost end to Star Trek: The Next Generation. It's made for the fans, we are so very, very grateful. (Available on AppleTV, Amazon Prime, YouTubeTV)

Paintings of London on Instagram.
Midlife is supposed to come with stability, but for millennials, whose lives have been a cascade of crises, it's merely another crisis: "Age advantage has disappeared from midlife. Now we have more responsibilities, and we're not getting all of the psychological advantages that come with midlife." This Isn't What Millennial Middle Age Was Supposed to Look Like [Jessica Grose, The New York Times - free link]
For more article recommendations, here's this month's Reading List (Airplane Nap edition).
*
You are welcome to forward this newsletter if you know someone who may be into it - the subscribe link is here. If you want to say hi, my email is jessica.furseth@gmail.com, or I'm on Instagram at @jessicafurseth. Thank you for reading x