The New Leaf #28 - Wool-jumper-as-coat weather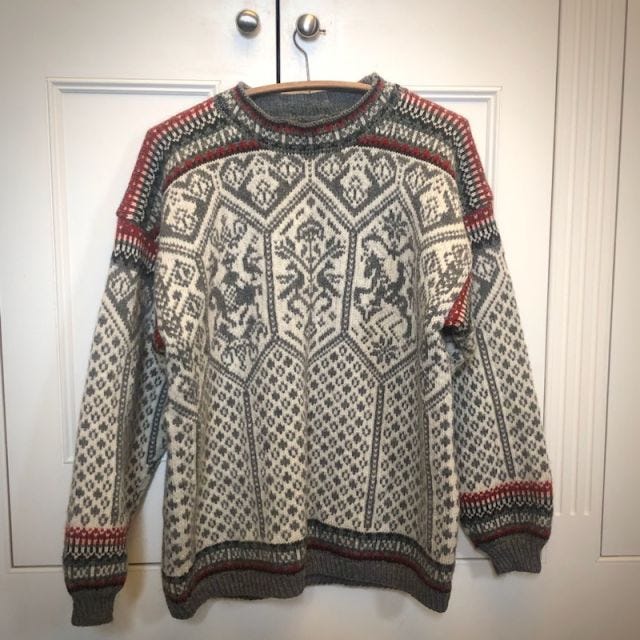 Hi, and welcome to the twenty-eighth instalment of The New Leaf - now monthly! I'm so happy you're here.
When I went to Norway in December I brought back the massive wool jumper that Grandma knit for me ahead of the 1994 Olympic Games at Lillehammer. I wore that jumper a lot as a teen but it's still pristine, knit by a master in her prime from the official Olympic jumper pattern from Dale Garn, the authority on such matters. The jumper still fits because it's what we now call "oversized", but back then was just how Norwegian wool jumpers were: big enough to wear with plenty of bulk underneath, in place of an overcoat.
The temperatures would fall into the minus 20s for a bit every winter when I was a kid - that was the original wool-jumper-as-coat weather. I distinctly remember wearing the Olympic jumper on the school bus the year when the usual bus had been commandeered by the Home Guard for an international defence exercise called "Strong Resolve", and we were left with the vintage bus stock which had no heating. When I fact checked this with my father he noted that this was before the end of Soviet influence, "an organisation that mobilised all of society and every resource" (for context, Norway shares a border with Russia and was occupied by the Nazis during WWII, so within living memory). Then he brought up the situation in Ukraine, which made my bus anecdote feel very silly. But it made me more grateful than ever for my next point: I remember the bus floor being slick with ice that winter, but in my jumper, I do not recall ever being cold.
I've been wearing my Olympic jumper in lieu of a coat again this winter. I wore it to the pond this morning with just a single layer underneath, snug under grey skies in this warmer English winter. February brought with it a different light, and a nip of warmth - I've been loving being out in the city more, and it feels like the year is opening up.

The good thing about the seasons is that even if you do nothing, they change, and we change alongside them. In a couple of weeks it will be spring, and people will start coming out of the woodwork, keen to do things, go places, hang out, look forward again - just wait for it. Soon you will notice it everywhere, and it will feel like waking up.
Some things I've been enjoying lately
1. The pandemic changed us, but we still don't know how to talk about it: "[Maybe] when we say the pandemic is over, we are actually seeking permission to act like it never happened — to let ourselves off the hook from having to make sense of it or take seriously its continuing effects. ... Each of us is consciously or subconsciously working through potentially irreconcilable stories about what we lived through — or else, strenuously avoiding that dissonance, insisting there's no work to be done." I don't think we can fully move forward until we actually understand what happened - this article helped me do that a little more. [Jon Mooallem, The New York Times - this is an unpaywalled link]
2. Stanley Tucci's "Searching for Italy" is one of the most charming things I've ever seen. This is the TV series where Tucci eats his way around his parents' country, losing his mind over vinegars and pork meats, while slipping in the occasional comment about how immigration is what's given us the best food. [Available on BBC iPlayer, AppleTV, YouTubeTV]

3. I re-read "The Examined Life" by Stephen Grosz and just like the first time, it's the kind of book you pick up and suddenly it's been two hours. On the surface this is about psychotherapy, but really, it's about how the stories we tell ourselves determine who we are.

4. Buffy the Outfit Slayer on Instagram - this way for your 2000s fashion the way that it actually was, and the reason why those of us who did it the first time are physically unable to do it again now.

5. I got served Yotam Ottolenghi's recipe for tahini roast potatoes recently and all other potatoes are dead to me.

For more article recommendations, my newest reading list is here.
*
If you want to say hi, my email is jessica.furseth@gmail.com, or I'm on Instagram at @jessicafurseth. Thank you for reading x